There are many ways:
Make a tax-deductible donation. Any amount helps!  $5.00 x 4,000 people will get us there.

If you own a business, make a tax-deductible donation and let us post your ad on our newsletter. Send our Executive Director, Vilma, an e-mail at  vilma@partnersincaring.org    We will be adding advertising space to our monthly newsletter: $50 donation = 1 month; $500 = 1 year. Businesses that donate $750 or more will receive recognition on our newsletter and our website. If interested, e-mail Vilma: vilma@partnersincaring.org
Follow us on Facebook and/or Twitter – like, share, re-post on your time-line, re-Tweet… tell your friends, tell your neighbors… Print the appeal (http://partnersincaring.org/wp-content/uploads/2016/11/Winter-Appeal_withSigDec52016_2.jpg ) and organize your own "Walk the Block."

Do you have a few hours to spare? We are looking for more volunteers:

Volunteer Drivers to help our home-bound seniors get from one place to another.  Help two hours per month or more. How much time, is up to you.

Volunteer Appreciation Coordinator to help us with phone calls and volunteer appreciation. Four hours per week.

Volunteer Social Media Marketing Specialist to help get the word out across as many outlets as possible. Four hours per week.

Volunteer Office/Clerical work. Four hours per week.
Volunteer Gardeners. Many of our homebound seniors cannot afford a gardener and can't do the work themselves.  A beautiful garden can brighten hearts.
Volunteer Handy-man/woman. Little jobs sometimes turn into big repair jobs. If you are a licensed contractor and would like to provide support, contact Vilma: vilma@partnersincaring.org   We are looking to partner in order to pursue a grant that will enable CPC to help homebound seniors with minor home repairs.
UPDATE: Our "Walk the Block" events were successful. The last one we had was on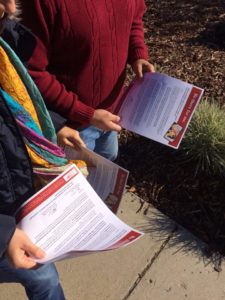 Saturday, January 28th.   Some of us met in Santa Maria and others in Lompoc.  We walked for 2 hours visiting with local business owners and residents – distributing the annual appeal, "Tips: Break Social Isolation," and sharing information about CPC.

Thank you Santa Maria Team: We are met at Starbucks:

2430 South Broadway, Santa Maria

. Thank you Starbucks for welcoming us.

Thank you Lompoc Team: We are met at the Village Coffee Stop:

3734 Constellation Rd # J, Lompoc

. Thank you Village Coffee Stop for welcoming us and providing our volunteers with free coffee.  
Thank you to the Vandenberg Air Force Base Airman who joined us on the 28th of January.  Roughly 30 Airman signed up to help us help our home-bound seniors. Thank you VAFB!
CPC is known as  "a little organization with a BIG heart and BIG mission," with your support, we can ensure CPC is there for the seniors that need us today and the seniors that will need us tomorrow. We hope that you will support this revitalization effort. Share the Appeal with friends, join us on  "Walk the Block," send a donation. Any help you give – time, talent and/or funding – makes a difference.
You have a team of committed volunteers and staff. Help us help our seniors. Thank you for your continued support.
Best to you and yours in the new year,

Vilma Contreras, Executive Director
http://partnersincaring.org/appeal/
~~~~~
Special Thanks
Santa Barbara Foundation
Smith Family Foundation
Hildegard Balin Trust
California Department of Transportation
CPC Volunteers
CPC Staff
~~~~~
Donations may be made by mail or PayPal. To donate online, go to the donate button to the right of this page. You will be directed to our PayPal account.
If you wish to donate by mail, please make your check payable to Community Partners in Caring and mail it to: 120 East Jones Street, Suite 123, Santa Maria, CA 93454  OR  1120 West Ocean Avenue, Office 113, Lompoc, CA 93436.