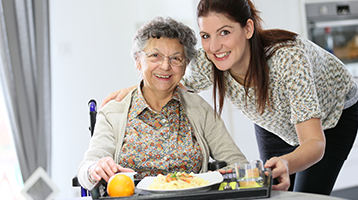 Please note holiday hours: We will be closed December 25th – January 1st.
Local transportation, friendly visits, and telephone reassurance  are available without charge to any senior (62+) in the Santa Maria, Lompoc, and Santa Ynez Valleys.  Light housekeeping, yard work, shopping and errands are in the development stage. We hope to have these additional services available by fiscal year 2018.
All services are provided by volunteers, so the availability of service times depends on their schedules. The earlier you call with your need the more likely we can fulfill your request. If possible please call us five business days in advance.
Clients and family members who are already enrolled in the program have the ability to schedule services online through Assisted Rides, a great convenience for caretakers. Please contact our Volunteer Coordinators to schedule a time to train on Assisted Rides.
SERVICES OFFERED
Local transportation (door-through-door)
A volunteer will drive a client to local medical, social, or service appointments by picking them up from where they live, escort them into the appointment location, and then return them to their home (door-through-door). For example, clients may have a doctor's appointment, may want to meet friends for lunch, go to church, or need the services of a lawyer, tax accountant, or other service professional.  Volunteers drive within our local areas.
Telephone Reassurance
A volunteer will call a client and engage them in conversation for 10-15 minutes.
Limit: 1 call per week
Friendly Visits
A volunteer will visit with a client in their home. Activities depend on the client. For example, some clients like to play cards or board games, others like to sit and talk.
Limit: 1 hour per week
Yardwork
A volunteer will assist a client by, for example, watering plants and weeding.
SERVICES IN DEVELOPMENT
Shopping & Errands
A volunteer will transport and escort a client into one or two stores, helping them with their purchases. Example stores are grocery, clothing, fabric, and craft.
Limit: 1 time per week
Respite Care
A volunteer will provide time away (respite) for the primary caregiver by sitting with a client and being a companion to them while the caregiver is away.
Limit: 1 time per week
Paperwork Assistance
A volunteer will sort a client's mail, correspondence, or paperwork. Volunteers will not do any bill paying.
Limit: 1 time per month
Minor Home Repairs
A volunteer will help a client with small home repairs. For example: if a screen door is of track, a lock on the gate needs repairing, light bulbs changed, or small plumbing issue.
Client pays for parts; time is pro bono.
Light Housekeeping
A volunteer will do light housekeeping such as dishes, laundry, dusting, and light vacuuming.