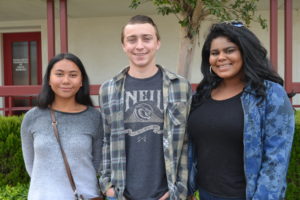 Community Partners in Caring,  took a major step, earlier this Summer, toward developing a volunteer program that will bring youth (ages 15 to 24) and homebound seniors together.  The Youth Engaging Seniors (YES!) Program, gives young people the opportunity to learn the steps of developing a project for a non-profit – from inception to implementation.  The idea was born from the personal experience of Community Partners in Caring's Executive Director, Vilma Contreras.  "When I was fifteen years old, I was part of a youth serving seniors project.  We visited seniors, helped with yard work, and ran errands. It was a rich experience that I've never forgotten."
The project is near and dear to our Executive Directors' heart who is volunteering her time to develop the new program and mentor two high school students, Samantha and Kyle, as they prepare to launch their first activity under a project they've named Break the Barrier.  The "Break the Barrier" name was selected because, as Samantha put it, "we are breaking through social isolation and breaking away generational barriers." Samantha and Kyle aren't the only two students on the team. Brandi, a recent Allan Hancock College graduate who will be transferring to a 4-year university, joined the team and will be leading all communications under Break the Barrier till she transfers.
The first activity under Break the Barrier will be a yard transformation, which will take place on Saturday, the 19th of August.  An estimated 14 people ranging from ages 16 to 55 will be working to transform a dry, weed-ridden front yard into a beautiful, green, drought tolerant garden that's easier to manage.  Thanks to a local landscaping business, J. Arroyo Landscaping, and a few generous community members, plants and gardening materials have been made available.  Break the Barrier, they hope, will become a permanent project for Community Partners in Caring.  If you wish to support this youth led project in support of homebound seniors, please consider making a donation.  Donations can be made on-line, through www.partnersincaring.org, or via mail: Community Partners in Caring, 120 East Jones Street, Ste 123, Santa Maria, CA  93454 ATTN: Break the Barrier Project.