Free rides to medical appointments and to the grocery store
Did you know that homebound seniors go without medical care and food simply because they can't drive anymore? We're giving free rides to the elderly, but we need your help.  
Who do we help? To be eligible for a miles of SMILES  free ride, people must:
Be at least 62 years of age OR be 18+ years old and
considered "at-risk" (if mobility is restricted by a
chronic illness and one is unable to access transportation – this can be confirmed by providing a doctor's note).
Be unable to drive.
Be able to walk without assistance (canes and walkers will
placed in the vehicle during the ride).
Live in participating areas of Santa Barbara County*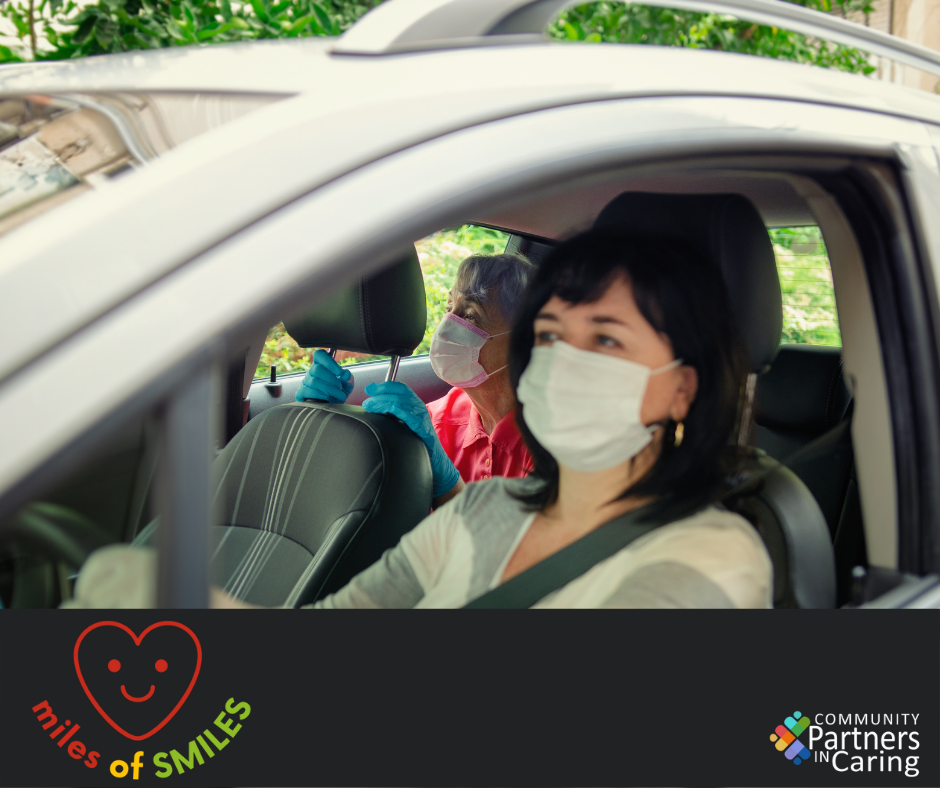 Volunteers and seniors are required to wear a face mask and follow COVID safety protocols at all times.
*Sorry, due to lack of funding, we're unable to serve those living in Solvang and Buellton (mid-county), Cuyama, and those living from Montecito to Carpinteria
VOLUNTEER FOR miles of SMILES
Volunteer drivers are needed! Join the miles of SMILES campaign – grab your car keys and provide lifesaving rides to seniors.
Give anywhere from one hour a week – or several hours a month. Volunteering for Community Partners in Caring means you choose your schedule as a miles of SMILES volunteer! Plus, you can receive mileage reimbursements, too. New volunteers go through an on-boarding and orientation process that takes one to two weeks and includes COVID-19 safety protocols and sanitation training.
Must be a non-smoker
Must be aged 21+
Pass a local/national background check
Must have access to a safe and reliable vehicle
Must carry/maintain auto insurance
Must wear a face mask and follow COVID safety protocols at all times
Grab those keys and make a life-saving difference to a senior! Volunteer today!
In addition to launching miles of SMILES, Community Partners in Caring's volunteers also offer an array of other free helpful programs to area seniors, including grocery pick-up/delivery, free food delivery, senior programming enrollment, rides to health/wellness appointments, yard work, and "friendly calls" to break up the day and reduce senior isolation. Tax-deductible donations to support this important work can be made by mail or directly through our website. Click here
RESOURCES: SPREAD THE WORD!
Spread the word about miles of SMILES with these easy-to-use resources. Share with neighbors, friends, at your place of worship, and through your organization!
Get on our email list to stay connected!  Sign up below (this section to be linked to our newsletter sign-up page)