Many of our elders struggle with isolation and physical limitations, but we can all do something to bring some light into their lives.  In September 2017, with a team of student volunteers, Community Partners in Caring launched a special project – Break the Barrier.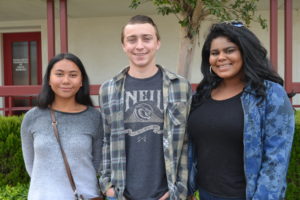 Break the Barrier is a youth-led project in support of homebound seniors.    Two young volunteers, Samantha and Kyle, came up with the name.  Why Break the Barrier?  As Samantha put it, "we are breaking through social isolation and breaking away generational barriers." Samantha and Kyle aren't the only two students on the team. Brandi, a recent Allan Hancock College graduate who will be transferring to a 4-year university, joined the team and will be leading all communications under Break the Barrier, till she transfers.
The first activity under Break the Barrier will be a yard transformation, which will take place on Saturday, the 19th of August.  An estimated 14 people ranging from ages 16 to 55 will be working to transform a dry, weed-ridden front yard into a beautiful, green, drought tolerant garden that's easier to manage.  Thanks to a local landscaping business, J. Arroyo Landscaping, and a few generous community members, plants and gardening materials have been made available.  If there's community support, CPC will make Break the Barrier a permanent project.
Can you help?  Break the Barrier needs:
Volunteers willing to sign up for, at least, one yard transformation. Bring your garden gloves.
Easy to maintain drought tolerant plants (for the event day).
Weed Barrier and Garden Staples
Mulch
Trash bags
We welcome monetary donations
We hope to make Break the Barrier a permanent project for Community Partners in Caring.  If you wish to support this youth led project in support of homebound seniors, please consider making a donation.  Donations can be made on-line, through www.partnersincaring.org, or via mail: Community Partners in Caring, 120 East Jones Street, Ste 123, Santa Maria, CA  93454   ATTN: Break the Barrier Project.  For more information regarding the project, e-mail the Executive Director, Vilma, at partnersincaring.vpc@gmail.com